DESIGNPREIS 2013 - Detailed solutions in the bathroom
This fabulously beautiful Onyx bathroom in Vienna sets new standards in the field of luxury bathrooms. With perfect craftsmanship and the highest level of artistry, a dreamlike wellness oasis was created that meets the very highest standards in aesthetics and modern bathroom technology.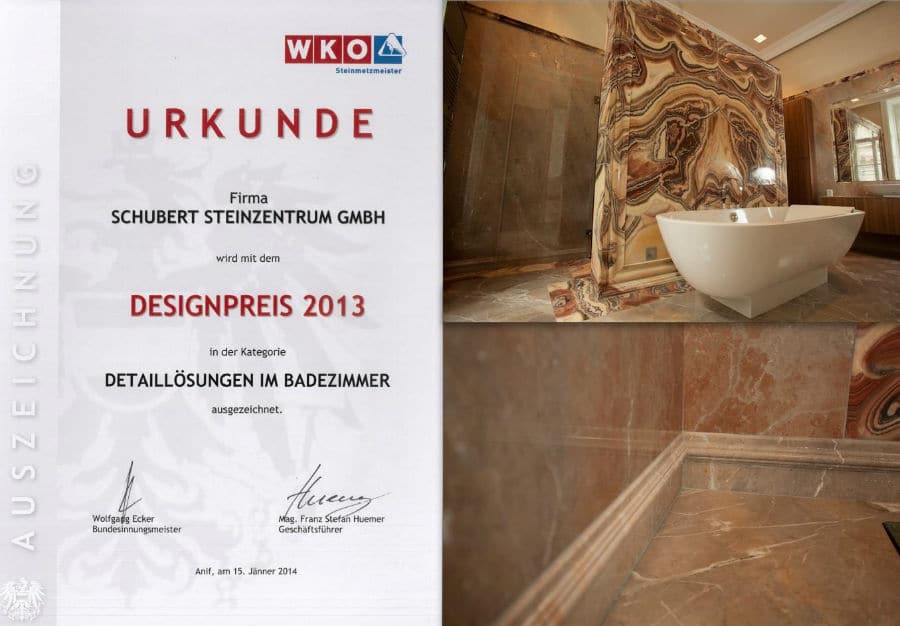 DESIGN PRIZE 2013 - Steps & Floor / Interior
Tumbled limestone slabs in cream with an octagonal outline were laid as the base floor, together with inlays of different sizes in dark brown travertine. Towards the wall, a medium-coloured and a dark travertine were used to create a double frieze that creates a harmonious contrast. A profiled plinth of travertine finishes off the wall.
DESIGN PRIZE 2013 - Design in the Kitchen
For a private client in a Viennese old building flat, a 6cm thick look was created from a 3cm polished gneiss slab by cementing, and a total work of art with curved edges was created by partially profiling by hand.