History of SCHUBERT STONE
From a small natural stone trading company to the leading stone and parquet supplier with an experience exhibition and the most extensive material collection in Austria.
SCHUBERT STONE today:
2,000 m2 experience exhibition space
2,500 types of natural stone, technostone and parquet on display
Long-standing contacts with over 80 suppliers worldwide
Experienced, long-standing specialist advisors for stone and parquet flooring
Professional installers for stone & parquet
Modern stonemasonry partner workshops
Transshipment warehouse in Wiener Neudorf with sufficient capacity for expansion
Numerous design ideas for larger building projects incl. colour collages and design concepts
Own parking spaces on the premises
Event location with an inner courtyard, a Gründerzeit villa and historic factory halls.
To date, SCHUBERT STONE has completed more than 30,000 interior and exterior construction projects both at home and abroad.
A team of 14 highly qualified professionals puts customers, their wishes, as well as their ideas and projects in the foreground and makes living and property dreams come true.
5 employees have been with the company for more than 15 years. Diversity and equality are very important at SCHUBERT STONE. Half of the employees are women. 3 employees have a migration background (from Poland, Bosnia). Highly qualified employees also work part-time at SCHUBERT STONE. Mothers in the technical and sales assistance departments who need time for their children take advantage of this offer. After many years of practice, HTL engineers bring a high level of expertise to the technical advice and material selection.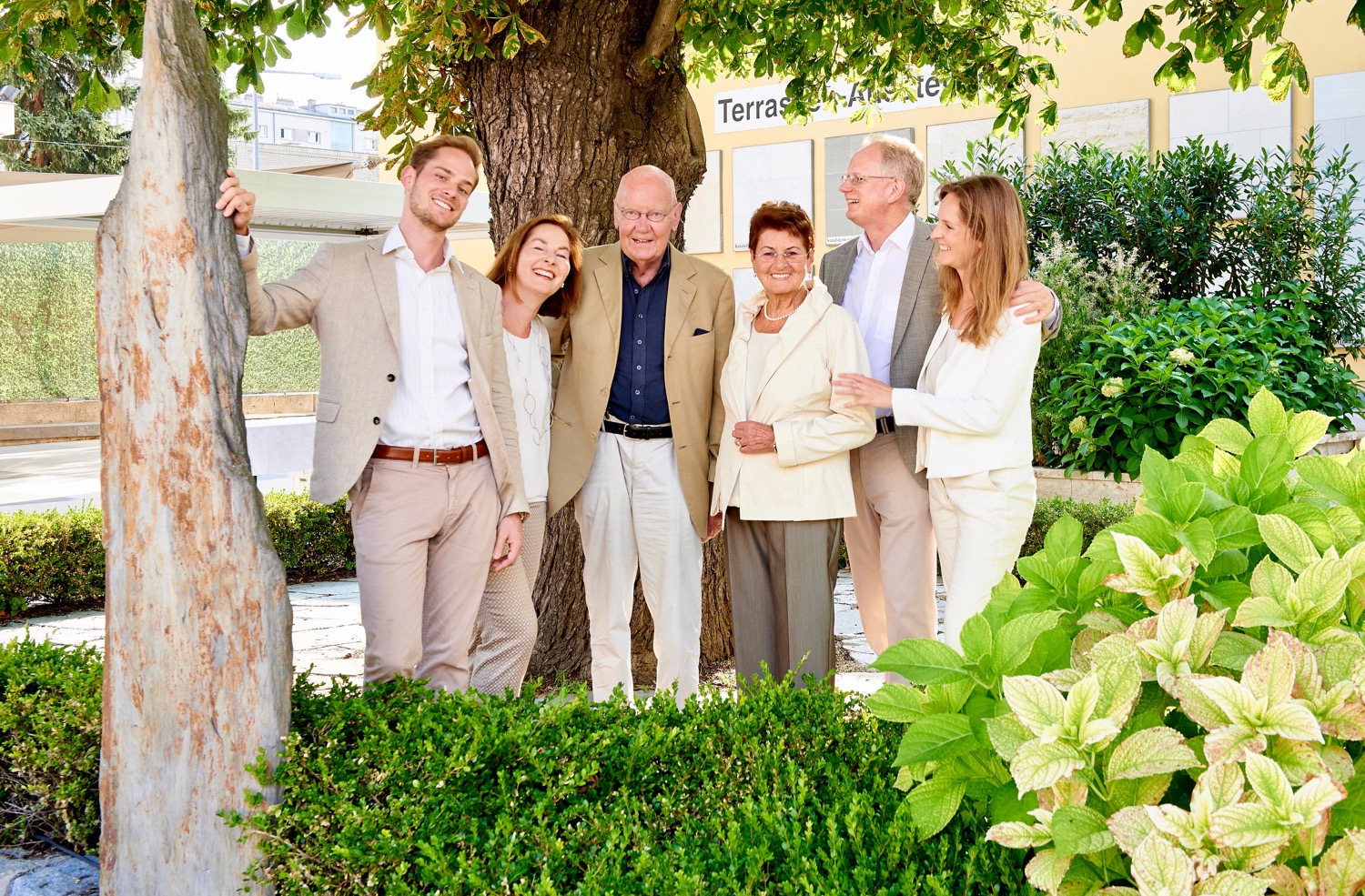 Mathias Schubert, Heidi Schubert, Karlheinz Schubert, Nina Schubert, Thomas Schubert, Carina Schubert (l.t.r.)
2019 The new website version of www.schubertstone.com is finalised
Online appointment bookings, online project planner, clear structure of all reference projects, mobile-friendly pages and articles with large images.
2018 SCHUBERT STONE opens new technostone exhibition
In spring 2018, a unique, spacious Technostein experience exhibition will be installed as a studio in the advisory centre. Various generously laid floor and wall surfaces with large-format slabs up to 320x160cm show the charisma of Technostein in use. Outside, a separate Technostein terrace exhibition will be realised. Visitors can view the various terrace floors on large surfaces in daylight and also walk on them barefoot. A Technostein façade shows the technology behind the laying of 320x160cm slabs.
Since spring 2018, son Mathias Schubert has also been working in the traditional company with managing director Thomas Schubert. Together, the business is now being optimised into a digitalised and sustainable company.
2016 Over 2000 varieties are presented on 3000m2.
Generous exhibition space for furnishing private houses, villas, gardens and flats.
2015 The new, informative website schubertstone.com goes online.
Here you will find many photo examples of noble furnishings with natural stone, parquet and technostone. Many videos of the stone expert Thomas Schubert as well as of some customers and their projects impressively show the services of SCHUBERT STONE.
2013 In the open-air site, a comprehensive exhibition of masonryexhibition will be set up.
Quarry stone walls, system walls, split large slabs for facades and many wall facing bricks. An elaborately designed raised bed by terracing on a former embankment with an exclusive garden design shows the use of walls in a modern garden.
2007 The company is renamed SCHUBERT STONE.
Thomas Schubert is the sole owner of the company.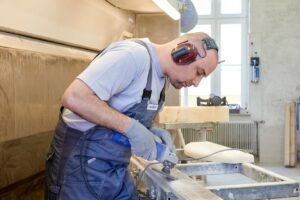 A long-standing, well-coordinated team of expert advisors, purchasing specialists, technicians and stonemason craftsmen have made the former small business into the leading STONE CENTRE in Vienna. NATURAL STONE, TECHNOSTONE and PARQUET are offered from one source, each under the guidance and explanation of the same expert advisor.
2006 THE STEINZENTRUM is modernised and expanded.
The consulting centre is completely modernised and a separate technostone studio is set up. A combined stone and parquet exhibition is installed in the VILLA SCHUBERT. The company name is changed to SCHUBERT STONE.
2006 A floor trade integrated into the company as a 3rd pillar.
The STEINZENTRUM thus becomes a place where visitors can conveniently choose their natural stone, technostone as well as parquet for all living areas with the same expert advisor and combine everything with each other.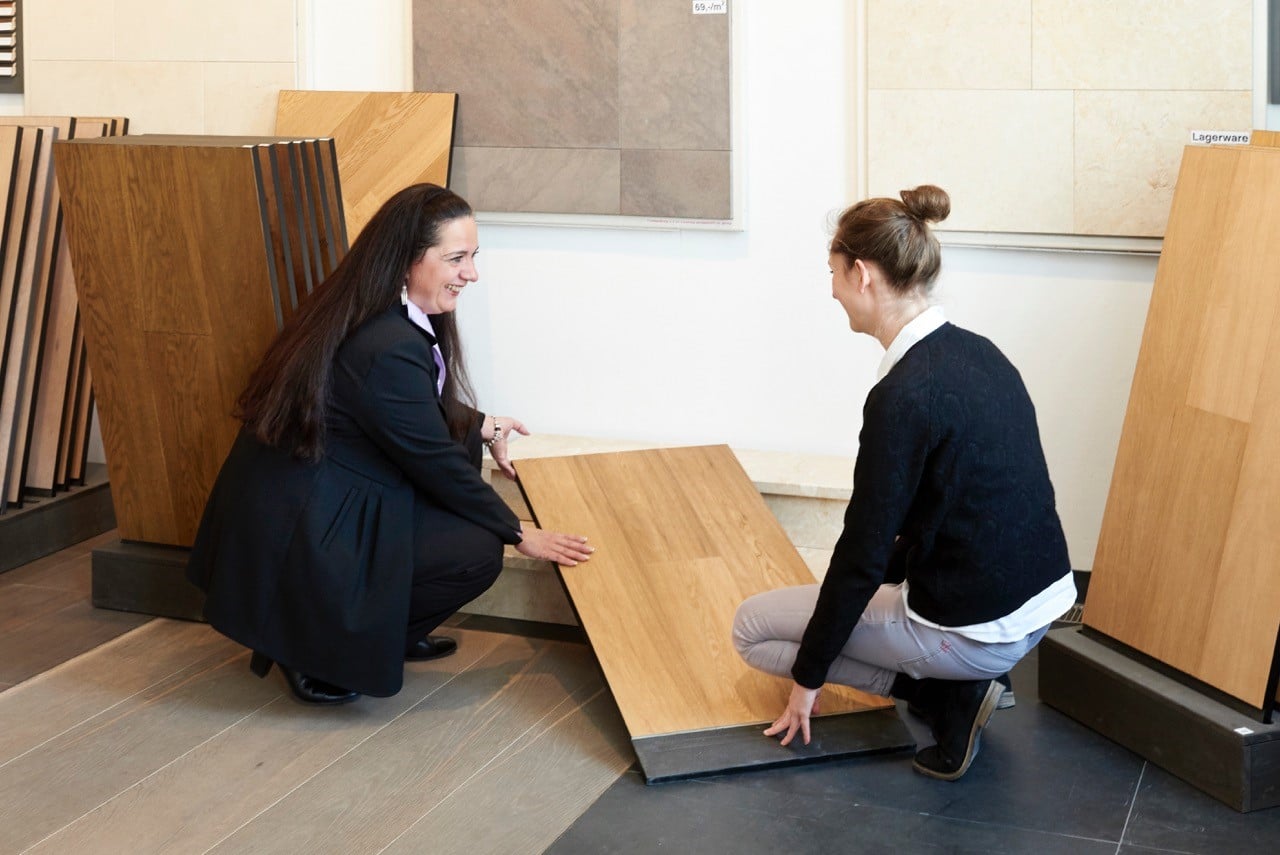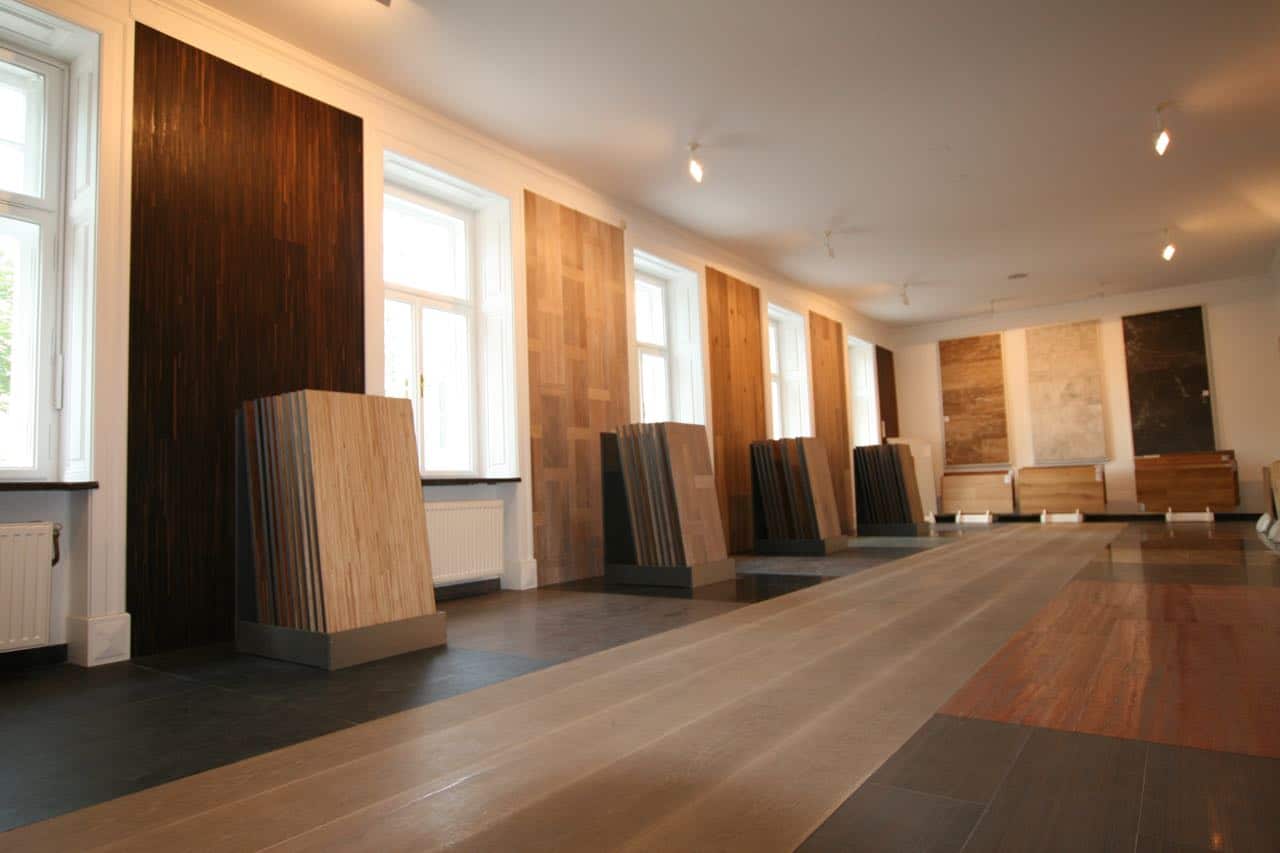 In 2004, Thomas Schubert founded the platform "HOMElinks.at" with a number of entrepreneurs from the building, furnishing and gardening industry, who all carry out projects for private builders at the same high level. In the STEINZENTRUM you can see various products of the HOMElinks.at partners in use: Wooden box storey windows, burglar-resistant glass, all-glass elements, style doors, flush doors, wall fillings in some designs, a historic wine cellar with original old bricks, a show garden and historic lanterns.
2002 Technostein in many varieties is added to the range as a particularly hard-wearing floor and wall covering . A separate Technostein studio is set up. The Technosteine come directly from Italy, Spain and Portugal.
2001 The natural stone daylight exhibition in the outdoor area is created. This allows interested parties to inspect the natural stones outdoors after weathering and also to walk on and test them barefoot. One can now see how the different stone floors change slightly after years of weathering and still look good.
2000 The completely redesigned Villa Schubert (built in 1906) with large classic and historic natural stone shovel areas on floors and walls opens. The restored and modernly equipped event brick cellar (which is also rented out from now on) starts operation. Large-scale stone floors and stone steps show the effect of stone in space on 2 floors.
1997 The stonemasonry workshop is brought up to the latest technical standard. A modern bridge saw and an automatic edging machine are installed. A professional team of stone experts also lends a hand personally for noble masterpieces made of stone.
1996 The Stone Centre is reopened after a period of renovation
The charming buildings, some with exposed brickwork, and the inner courtyard with old chestnut trees provide a unique ambience for this experiential exhibition: a spacious consultation centre, modern offices, a large slab showroom with 500 tonnes of fine natural stone large slabs, the indoor floor showroom as well as customer parking spaces with various natural stone paving and an outdoor showroom will be set up.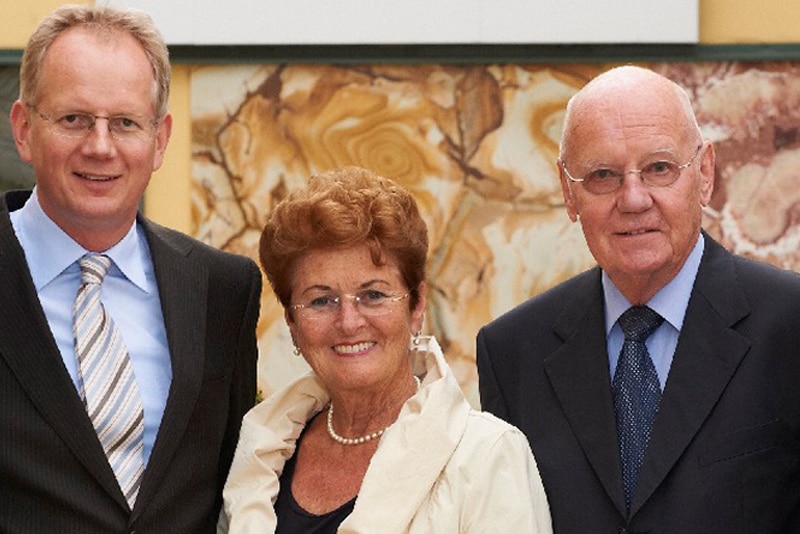 Thomas Schubert, Nina Schubert, Karlheinz Schubert flnr.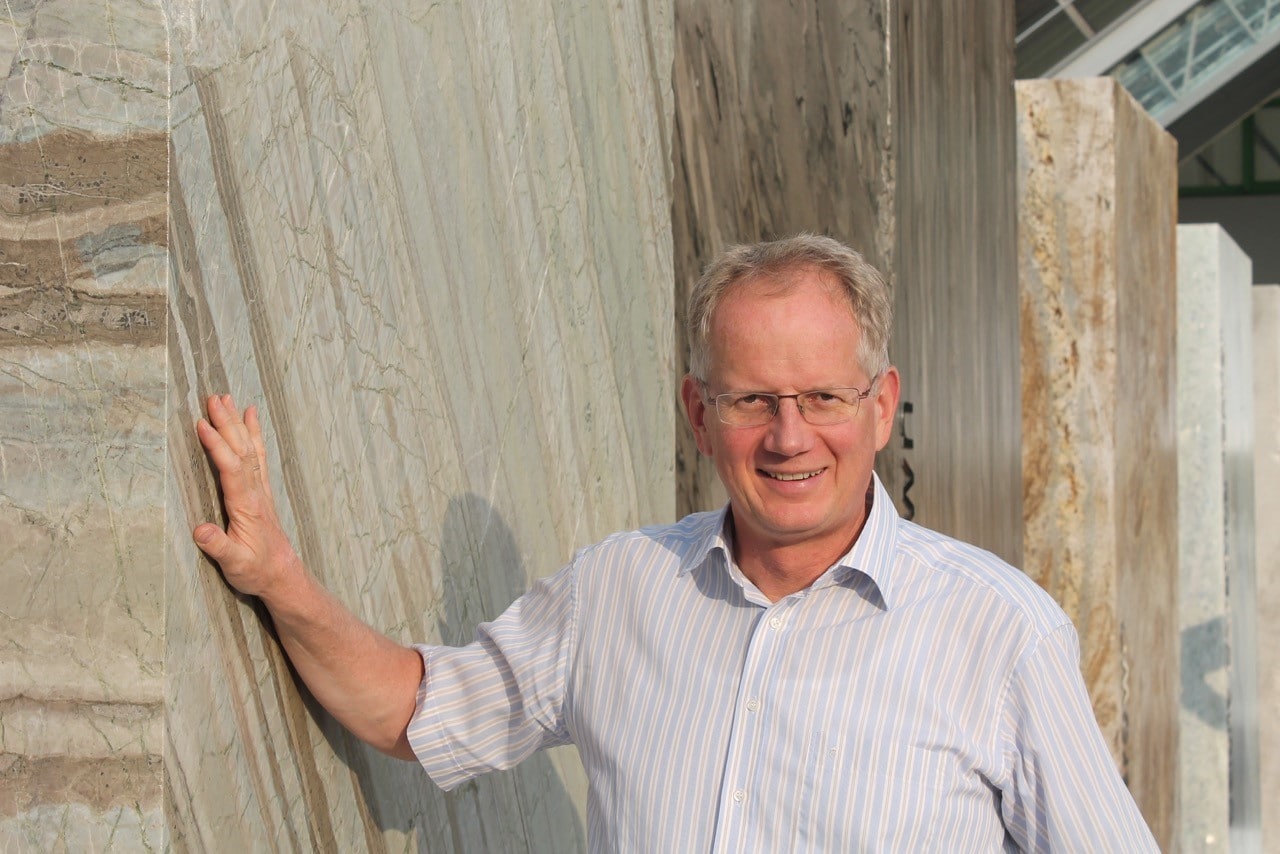 THE STONE CENTRE IS BORN
1995 The Schubert family acquires the entire company property with various halls and open spaces.
It is a total of 3,300m2 of land with 2,200m2 of historic buildings at Breitenfurter Straße 249, laying the foundation for today's STEINZENTRUM.
Thomas Schubert, structural engineer, completes his master stonemason's examination and takes over the management of the company.
The factory hall of the former yarn spinning mill on the 1st floor of the 2-storey hall (the structure is a former aircraft hangar with a 22-metre wingspan) will be converted into a consultancy centre with modern offices, the pillared hall on the ground floor will be set up as a large panel showroom with 500 tonnes of fine large panels from various countries and the indoor floor showroom. The unpaved inner courtyard is completely redesigned, paved and paved. New customer parking spaces with natural stone paving and a display warehouse for patio slabs are created.
1990 New supplier relationships are created.
The company purchases the natural stones directly from the manufacturers. The latest trends influence purchasing and new materials are processed. Highest quality, favourable prices and fair working conditions during production become the most important criteria in purchasing. Direct and well-maintained personal trade relations with the producers make it possible to offer many products exclusively at favourable prices. The natural stones come directly from the producers in Turkey, Spain, Croatia, Germany, France, Egypt, Portugal and Italy.
THE BUSINESS GROWS AND THRIVES
1982 The company grows, international projects are tackled.
Thomas Schubert establishes a network of expert installation partners. These high-quality installation experts have been repeatedly brought up to the latest technical standard over the past decades. As a result, many demanding projects have also been realised abroad. In total, more than 20,000 satisfied customers have been served since 1973, resulting in many high-quality reference projects. Some long-standing customers also referred their children to SCHUBERT STONE and realised even more projects with SCHUBERT STONE.
1981 Thomas Schubert, son of the company founders, joins the company.
During his studies at the Vienna University of Economics and Business Administration, Thomas Schubert recognised the potential of SCHUBERT STONE. There were 5 other employees at the time.
In 1978 the company moves to Breitenfurter Straße 249 in 1230 Vienna.
The rental property comprises an office villa and a historic warehouse (both built in 1906) with some open space.
1973 Nina and Karlheinz Schubert found a natural stone trading company.
They are the first company in Vienna to sell porphyry and Solnhofen limestone to private builders. Their private house serves as a showroom where they lay the stones. They drive the stone slabs to the builders in their own car and exhibit them at Viennese trade fairs. The main focus is on furnishing private building projects and gardens with natural stone.